MY STORY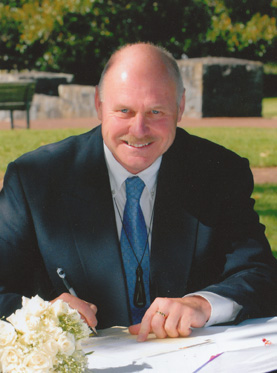 I have arranged flowers for all sorts of occasions for many years but when (about 12 years ago) I became a Civil Celebrant arranging wedding flowers and funeral flowers seemed to go hand in hand with that work. Almost all of the floral work has come my way by word of mouth as I have only recently started to advertise. Brides can be quite particular and almost invariably change their minds several times. (When it comes to wedding flowers I mean not fiancées!). However, I enjoy the challenge to be just that little bit more creative and come up with something which is uniquely suited to that particular bride, bridegroom or wedding and adds an element of delight to that special day. I enjoy working with the couple/family to create a theme with the wedding flowers, linking the colours and design of the bouquets, buttonholes, corsages and cake flowers. Often this extends to floral decorations for the wedding venues as well.

My florist skills are continually being honed by being engaged to create floral displays for a variety of other occasions. In recent years I have had repeat engagements to arrange floral displays for book launches and university graduation ceremonies. Other occasions include event flowers and floral displays for product launches, prize-givings, funerals and private birthday and dinner parties. As well as a wide variety of wedding venues I have arranged floral displays for functions at Alexandra Park, the Columba Centre, various churches, halls, clubs and private homes.
High impact event flowers and floral displays that make a statement can really catch the eye and draw in prospective clients and customers to any event or product launch. Product launch flowers can extend to themed displays that tie into the product and enhance its impact.
Doing a bit of name dropping; I have prepared bouquets for a few dignitaries including former Prime Minister Helen Clark (prompting very admiring comments from her) and the former Speaker of the House Margaret Wilson.

I enjoy this work as it is a chance to unleash my creativity and often brings a little burst of joy into people's lives.